Our society is considered a decentralized autonomous system. In a centralized system, a central controller controls the entire system. In contrast, the individual components in a decentralized autonomous system behave independently, to some extent. For example, people within a given company individually make decisions, but behave in a coordinated way as a company. A city is not a living thing but changes like a living thing depending on the decision making of its components (people). We take a model-based approach and use multi-agent simulation techniques for better understanding such decentralized autonomous systems and for developing useful methods for our future society.
1. Decentralized Autonomous Smart Grid: i-Rene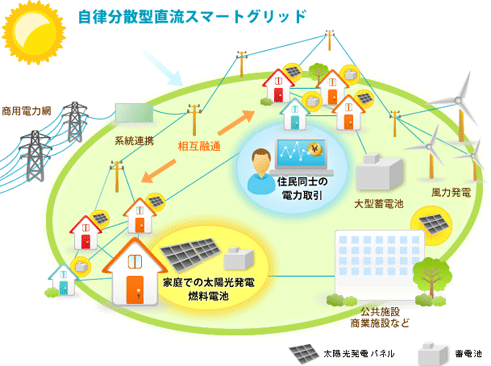 Since the industrial revolution, fossil fuels have been of the main source of energy in our society. However, fossil fuels will disappear from our world in the future. It is important to make use of the renewable energies including solar, wind, and water power to overcome this crisis. We have to change our power grid into a decentralized power network to make effective use of such renewable energies. We proposed a decentralized autonomous smart grid, named i-Rene. We are studying this system from the viewpoint of intelligent system, economics, game theory, and control theory in order to develop and evaluate such a new power grid.
Publication
1. Tadahiro Taniguchi, Algorithm for Adaptive Intelligent Agent Trading Electric Power in Decentralized Autonomous Smart Grid Analysis of Dynamics of Bottom-up Price Formation by Intelligent Power Router and Demand Response, Transactions of the Japanese Society for Artificial Intelligence, Vol.28(1), 77-87. (2013) (in Japanese)  [LINK]
2. Tadahiro Taniguchi and Shiro Yano, Decentralized Trading and Demand Side Response in Inter-Intelligent Renewable Energy Network, The 6th International Conference on Soft Computing and Intelligent Systems / The 13th International Symposium on Advanced Intelligent Systems. (2012)
3. Shiro Yano and Tadahiro Taniguchi, Dynamic game approach for Decentralized optimal control of Re-
newable energy network, Fourth International Workshop on Agent Technologies for Energy Systems
(ATES2013). (2013)
URL: i-Rene project
2. Emergence of Communication and Role-differentiation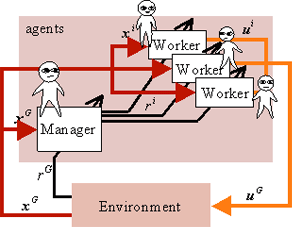 When people gather with others, they form an organization and/or a community. They can differentiate their roles and effectively collaborate as a complete system. We develop computational models that help with the emergence of communication and role-differentiation in order to better understand adaptive behaviors and collective intelligence of humans.
Publication
1. Tadahiro Taniguchi, Kazuma Tabuchi, and Tetsuo Sawaragi, Adaptive Design of Role Differentiation by Division of Reward Function in Multi-agent Reinforcement Learning, SICE Journal of Control, Measurement, and System Integration (JCMSI), Vol.3 (1), pp. 26-34 .(2010)  [PDF]
2. Tadahiro Taniguchi, Kenji Ogawa, and Tetsuo Sawaragi, "Implicit estimation of other's intention without direct observation of actions in a collaborative task: Situation-Sensitive Reinforcement Learning", SICE Annual Conference 2007, in CD-ROM .(2007)SICE Annual Conference 2007 International Award Finalist [PDF]